As a family owned business we do our best to be aware and stay involved in our local community. As an insurance agency we are passionate about a local organization that provides support to victims of spinal cord injuries. The Be Perfect foundation has an amazing story to tell.
Visit their website at beperfectfoundation.com for more information on their annual fundraisers as well as the people they help.
Therapy and the medical equipment required to help these individuals is very expensive. Kessler Alair is committed to helping them raise awareness and funds to make a difference in their lives.
---
---
A Letter from the Be Perfect Foundation
The Be Perfect Foundation is a non-profit organization that provides direct financial and emotional aid to spinal cord injury sufferers and their families. Ours is one of a few organizations that donate directly to individuals who have needs for household improvements, medical supplies, wheelchairs, and shower equipment. Our main focus is to provide our friends with the opportunity to receive intense activity-based therapy, knowledge, and the possibility to experience adaptive-type recreational activities. We believe that this type of cutting-edge therapy will reduce secondary complications that typically follow a spinal cord injury. Approximately 450,000 people live with a spinal cord injury (SCI) in the US, and close to 10,000 new SCI patients are added each year. Lifetime costs for spinal cord injuries can exceed $2.5 million per patient. As you can see, the need for financial support is immense; most people who are living with this type of injury additionally struggle with the financial burden that results. Most insurance companies do not cover all of an SCI patient's medical needs, and many policies limit payment for rehabilitation sessions and basic medical supplies. It is our mission to help those who are in great need and guide them through this most difficult time.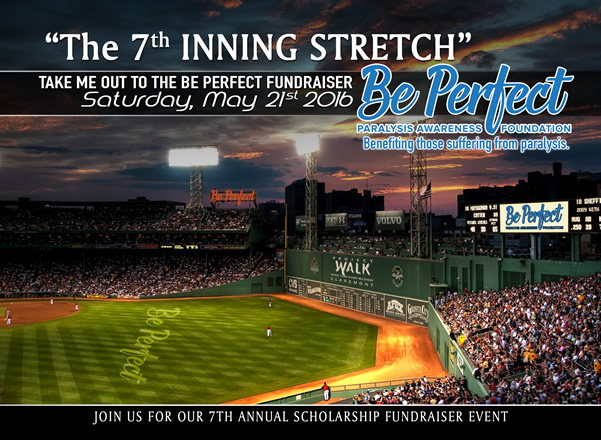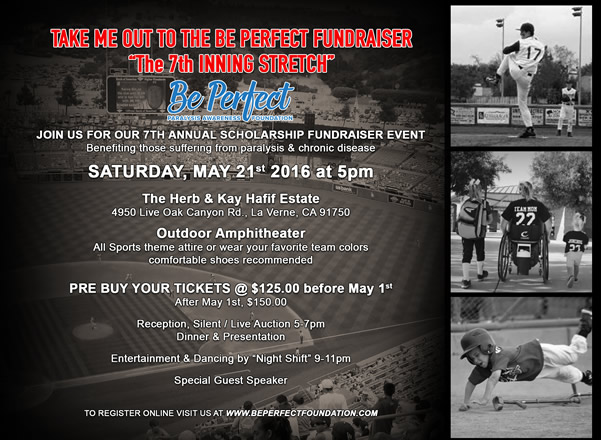 On May 21, 2016 we will be hosting our 7th Annual Be Perfect Foundation Scholarship Fundraiser, "The 7th Inning Stretch" at the Hafif Estate in La Verne, California. The night will include a silent/live auction dinner, live entertainment, a special presentation, and dancing. The evening will focus on what we have done for our clients and their families and how their lives have been improved.
Our last charity event raised over $400,000 with 98% of the proceeds going to our SCI friends who suffer from the financial burden that comes with this injury. With over 1,200 guests in attendance, our fundraiser was a huge success and allows us to help many in need. We take pride in the success of our events, but the majority of our success depends on the support of our sponsors, friends, and family.
This year, we are asking for a special request from you or your company for our silent or live auction. Sponsorships Opportunities are available if you wish to help in other ways. If this is something you can do please contact me direct at 909 560-0203 or my e-mail Lorie [dot] Hargrave [at] gmail [dot] com
Save the Date: Saturday, May 21st, 2016
Come see this wonderful gathering of inspiring children, teenagers and adults who have the determination, strength, courage, and knowledge to overcome the obstacles that come with this challenging injury, illness or diseases.
Please visit our website at beperfectfoundation.com for more information or tickets for our 7th Annual Be Perfect Foundation Scholarship Fundraiser. For additional information regarding sponsorship please, contact Lorie Hargrave at beperfectevents [at] yahoo [dot] com. Thank you for your kind attention to this matter. We look forward to hearing from you.