Meet Mary Strohman...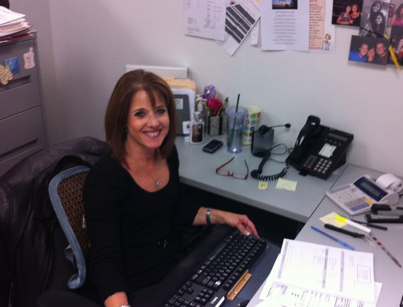 Hi everybody! Nice to meet you!!!
Now that that's out of the way let's tell you a little bit more about her. Mary was born in Riverside and raised in Chino on a quaint little dairy farm (no not really, but yes, in Chino). Her experience in the insurance industry started many years ago when a friend from high school told her of a job opening at a nearby agency in Upland.
Mary first joined the Kessler Alair team in 1987 and, has for many years now, worked in our commercial lines department. When asked what her best on the job attribute is, Mary replied, "Servicing the customers! In this economy insurance is tough so I try to have compassion and understanding for each of my customers."
Mary became Mrs. Strohman 28 years ago when she married her high school sweetheart. Mary and her husband, Scott, have raised 4 beautiful children, two boys, 25 and 22, and twin girls 21 years old.
Her oldest is getting married in June and their family loves his fiancé. Mary loves dancing because it helps clear her mind from all the worries and stress in life. She also loves karaoke! Her friends have seen some great shows in the privacy of her own home!