The last of the gifts collected from Kessler Alair Insurance of Upland and Rancho Cucamonga were picked up from the Be Perfect Foundation today. The Be Perfect Foundation raises money to help support victims of Spinal Cord Injuries.
These baskets and other gifts, valued at over $2,000, were collected by Kessler Alair Insurance Services' employees to donate to the live auction that will be held at their annual fundraising event this Saturday. One of the favorite gifts collected was a custom designed, hand crafted electric guitar. There was a variety of other items from gift cards to an American Idol chair from Coca Cola. There were also 2 wheel chairs donated for the foundation to provide to those in need.
It is our hope that this will be a banner year for the Be Perfect Foundation and all they do to support SCI victims.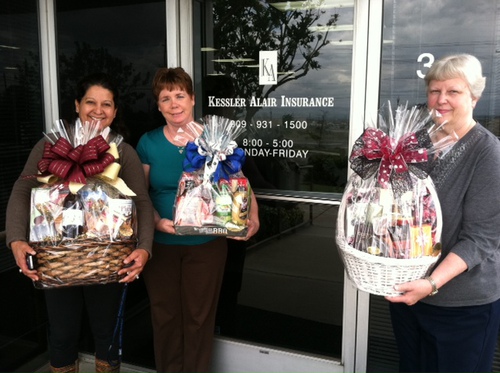 For more information visit www.beperfectfoundation.com