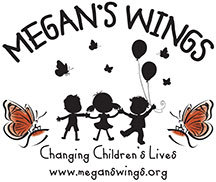 http://www.meganswings.org/home.aspx
The mission at Megan's Wings is to improve the care and quality of life for children with cancer and support their families by providing critical financial aid. They receive referrals for children needing assistance from hospital social workers, childlife specialists, doctors, nurses, churches, community members and caring family & friends.
Megan's Wings is a non-profit volunteer based foundation established in memory of 9 year old Megan Savage who lost her battle to Leukemia on April 2nd, 2003. Megan's Wings provides financial assistance to families with a child undergoing cancer treatments at a Southern California Hospital or Cancer Center. It is their wish to ease the burden of cancer for children and their families and aid in the search for a cure.
Megan's Wings tries to lighten this financial burden for the families by providing assistance when and where it is needed. If you know of a family with a child undergoing treatment for cancer from the Inland Empire that is in need please contact us at ksavage [at] meganswings [dot] org
Thank you Megan's wings for all the good you do in our community.
Click here to register to participate in the 5k that will help this great foundation provide more assitance to local families in need.
https://mgnswngs.ejoinme.org/MyEvents/9thAnnualMegansRaceforaCure/tabid/440600/Default.aspx