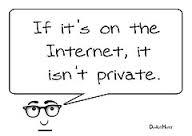 Keeping Personal Private! Steps to take to protect your personal information on the internet.
We at Kessler Alair Insurance, thought this would be something you could share with your family and friends both at work and home. It is truly scary the amount of personal information that can be found on the web.
You can opt out of the sites that mine your data for all to see. You have the ability to request your data be removed from various websites. It will not scrub all the data from the website, but will remove some very personal information such as your home address, and phone numbers.
You can go to pipl.com to see all the sites that have information on you. From the pipl.com website you will be able to go to the websites that have data on you.
www.pipl.com https://pipl.com/help/remove/
What is Pipl?
Pipl is a People Search engine. We aim to provide the most comprehensive results when you search for people. Being a search engine (like Google or Bing) we help users find links to information that is publicly available on the Internet. We do not own this information nor can we delete or modify it - we simply find and index what is publicly available to anyone on the Internet.
Can I remove my information from the search results?
If you prefer that a certain link will not be shown on pipl.com you should act to remove the page from the source website (you can see the details of the source website next to each result item); once the data is removed from the source, a link should no longer appear in our results page.
These are just a few of the invasive sites that gather information about the public.
With 10digits.us you will be required to upload your DL to the website to have your information removed. Please be sure to black out your photo and your driver license number, since you will not want to release this information.
We hope this information was helpful in taking public yet personal information from as much of the internet as you can.