The Happening That's Happening From the IE to the OC in December!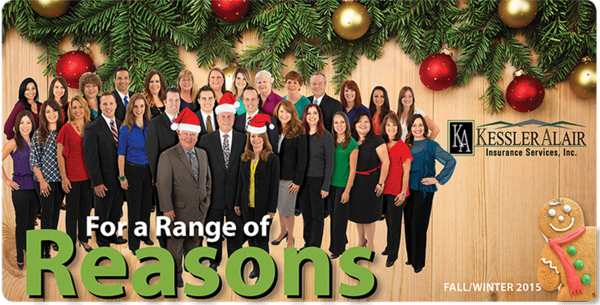 Happy Holidays from all of us here at Kessler Alair Insurance! If you are like most of us here at Kessler Alair you work hard to play hard. The holidays bring many fun events for families to enjoy. Having our offices located in Newport Beach, Rancho Cucamonga and Upland California gives us a wide variety of events to choose from. Of course one of the best things about Southern California is the fact that you can go snowboarding in the morning and sit on the beach to watch the sunset all in the same day.

Whether you are in the Inland Empire or in Orange County and you are looking for a great thing to do this month here are a few ideas:
What to do in the Inland Empire?
December 1-31 - Christmas Lights - Alta Loma/Rancho Cucamonga beginning after Thanksgiving and going through the month of December. It is certainly the most talked about Christmas light display in the Inland Empire and often considered the best. The tradition dates back over 20 years. Bring cash as neighbors sell hot chocolate, cookies, churros, tacos and more! These are traditional light displays that are not set to music. More information: http://www.inlandempire.com/holidays/christmas/christmas-lights-alta-loma-rancho-cucamonga-thoroughbred/
Snowfall at the Mall - 12505 North Main Street. Victoria Gardens is a 1.4 million square foot open-air town center that during the holidays transforms into a winter wonderland. Shop for gifts, eat lunch and visit Santa and get your picture taken at the Santa depot all in one. You don't have to drive to the mountains to see snow! Now until Dec. 23rd on every Friday and Saturday night in the Chaffey Town Square you and the kids can watch magical snowfall. Snow falls at 7:00 pm and again at 8:00 pm. Also every Friday and Saturday night you can be taken back in time with Charles Dickens carolers from 4:00 pm until 7:00 pm. More information, call 909.463.2830. http://www.victoriagardensie.com/event/magic-snow/2145465287/
December 5-13 - Miracle on 34th St. - Rancho Cucamonga Community Theatre presents Miracle on 34th St. This holiday classic comes to life on stage! When Kris Kringle, a nice, old man from a retirement home gets a job working as a Christmas Santa at Macy's, his honest and generous spirit winds up unleashing waves of good will throughout New York City along with a hint of magic in the heart of a very practical little girl. Saturday performances at 2:00 and 7:30 pm. Sunday performances at 2:00 pm at the Lewis Family Playhouse, 12505 Cultural Center Drive. Call box office at 909.477.2752. http://www.inlandempire.com/lewis-family-playhouse-december-2015-events/
December 18-20 - Inland Pacific Ballet - The Nutcracker at Lewis Family Playhouse, 12505 Cultural Center Drive. A holiday tradition your family will treasure! Experience Southern California's most spectacular holiday production of the Nutcracker with family and friends as critically acclaimed Inland Pacific Ballet brings The Nutcracker to life. The annual holiday tradition features dazzling set, beautiful costumes and more than 100 dancers on stage. Adults and children will enjoy the story of a young girl named Clara who receives a magical nutcracker doll on Christmas Eve. Meet the cast after the performance for photos and autographs. There are four performances. For tickets and more information, call 909.477.2752. https://www.cityofrc.us/cals/default.asp, then change calendar to December and click on event.
December 12, 19 & 26 - SDCNC Animal Presentation - Come hear the staff and Junior Naturalists tell you about some of the animals, reptiles and other interesting creatures resident at the Nature Center. You'll get to see them up close and personal. Where: San Dimas Canyon Nature Center Museum - 1628 N. Sycamore Canyon Rd in San Dimas. When: 1:00 pm - 2:00 pm. Who: The entire family! How: Just show up! Cost: FREE. For more information, call 909.599.7512. http://upland.macaronikid.com/calendar/event/sdcnc-animal-presentation/2015-12-12/c3728896/
December 9, 13 & 18 - Holiday Pet Photos! Whether your dog is a Great Dane or a Chihuahua you're welcome to the sessions scheduled in December. $15 suggested donation. Funds donated will go to animals in need and help the shelter search for a forever home for needy animals. In the past, Friends have purchased movable cat condos, reduced fees at adoption events and sponsored surgeries for injured animals. Photos will be taken every 15 minutes (by appointment) by Kimberly Saxelby, owner of True Emotions Photography on the following dates: Wed. Dec. 9, 1:00 pm - 6:00 pm. Sunday, Dec. 13th, 10:00 am - 3:00 pm. Friday, Dec. 18th, 1:00 pm - 4:00 pm. For more information or to schedule an appointment, please contact Upland Animal Services at 909.931.4185. http://www.uplandpl.lib.ca.us/#Animal%20Shelter%20Special%20Events
Junior Chef Classes at Williams-Sonoma - Every Thursday in December. Hey kids - impress your family by cooking an amazing dinner for them. We'll show you how to make everything from salad to dessert. And we guarantee your family will ask for a repeat performance! Where: Williams-Sonoma at Victoria Gardens 12514 South Main Street, Rancho Cucamonga. When: 10:00 am - 11:00 am. Who: Suitable for ages 8-13. How: Call 909.646.8400 to make reservation. Cost: $0 - $30 per child. http://ranchocucamonga.macaronikid.com/calendar/event/junior-chef-classes-at-williams-sonoma/2015-12-03/c4535680/
Ongoing Monthly Events in the Upland area:
Every Saturday - Fontana Farmer's Market - 8:00 am every Saturday morning. Residents enjoy locally grown fresh fruits and vegetables available every week at the Market. The Southland Farmer's Market Association (SFMA) has committed to bringing Fontana residents nutritious, in-season produce so residents have even more opportunities to make healthy food choices. The cost is free. Located at Center Stage Parking Lot, 8463 Sierra Blvd. in Fontana. For more information, call 909.429.7469 or visit: www.iefun.com/Calendar/index.php/name/Fontana-Farmers-Market/event/12292/
The Riverside Downtown Farmer's Market. The cost is free, located downtown Riverside - Main St. Riverside between 5th and 6th, in the arts and culture district of downtown Riverside. It provides a unique opportunity to shop for fresh fruits, vegetables, flowers, hummus, aged gouda cheese by Winchester Cheese Co., fresh baked bread from Old Towne Baking Co. and other specialty food items. For more info. call 714.345.3087 (Oscar De Leon). www.iefun.com
Frank Bonelli Regional Park - Monday, November 2, 2015 through February 29, 2016. Pack your picnic and head over to your local regional park. Winter entrance fee is free November thru February on non holiday weekdays. Where: Frank Bonelli Regional Park, 120 E. Via Verde Drive, San Dimas. When: All Day. Who: The Whole Family. How: Just drive in. Cost: FREE. http://upland.macaronikid.com/calendar/event/frank-bonelli-regional-park/2015-12-01/c4495617/
Every Saturday - LaVerne Fresh - Old Town Certified Farmer's Market. LaVerne Fresh is the source of the highest quality, seasonal and locally grown fresh fruits and vegetables, and delicious gourmet specialty foods, plants and flowers. The Market has something for everyone who eats......and is a fun and interesting gathering place, with weekly entertainment. Check it out and make it part of your Saturday morning routine! Rain or shine....Where: Old Towne LaVerne - at 3rd & D Streets. When: 8:00 am - 1:00 pm. Who: Entire Family! How: Just show up! Cost: Free Admission. More Info: Call 909.596.8706. http://www.dailybulletin.com/lifestyle/20150416/fresh-farmers-market-opens-saturday-in-old-town-la-verne
Claremont Farmer's and Artisan's Market - Every Sunday from 8:00 am to 1:00 pm. A "must see" during weekly strolls on Sunday mornings. Sponsored by The Claremont Forum. Located on Second Street between Indian Hill Blvd. and Yale Ave. Free Admission. Phone - 909.626.3066. http://www.claremontforum.org/claremont-farmers-market/
Movie Night for Grown-ups. You are invited to see a featured movie at the Upland Public Library. This event will be taking place every Wednesday of the month at 6:00 pm located in The Brodie Room. Popcorn will be provided. This is a free event. For details, please call the Reference Desk at 909.931.4205. http://www.uplandpl.lib.ca.us/#Calendar_/_Updates
Upland Flea Market - 4th Sunday of each month from 9 am - 3 pm. Antique and collectible vendors. For more info., call 951.751.7235 or 714.883.7051. http://www.historicdowntownupland.org/Photos.php
Ongoing Events in Rancho Cucamonga:
Every Tuesday - Chick-fil-A Family Night. Take the kids to Chick-fil-A for Kid's night every Tuesday for a complimentary craft! Where: Chick-fil-A Rancho Cucamonga just west of Day Creek and Foothill Blvd. When: 5:30 pm - 7:30 pm. Who: Kids and families. Cost: Free Crafts for the Kids. For more info: Call 909.899.4707. http://ranchocucamonga.macaronikid.com/calendar/
December 2 & Every Wednesday - $1 Hot Dogs at The Deli. Pick up the kids after school and head over to the Deli for $1 hot dogs! Try a TexMex or a Chilli Dog! All dogs are just $1 on Wednesdays! Where: The Deli, 9671 Foothill Blvd. (near Archibald on the SW corner). When: 11:00 am - 8:00 pm. http://ranchocucamonga.macaronikid.com/calendar/
December 4 & 11 - Family Storytime - at Paul A. Biane Library Story Theater. Every Friday starting Oct. 2 from 11:00 am - 11:30 am. This will be held only on the 4th and the 11th of December. This storytime focuses on the family. Children ages 2 - 12 and their caregiver and family can join in the stories, songs, rhymes and movement. Registration required. Contact: Children's Desk at 909.477.2720. http://www.cityofrc.us/about/library_calendar.asp
December 5 - Home Depot's Free Kid's Workshop. Attend the FREE Kid's Workshops on the first Saturday of every month! Workshops teach children do-it-yourself skills, tool safety and instill sense of pride and accomplishment. All kids get to keep their craft and receive a FREE Kids Workshop Apron, commemorative pin and certificate of achievement. Where: Home Depot - All locations! When: 9:00 am - 12:00 pm. Who: Kids 5 to 12. How: Register at http://workshops.homedepot.com/workshops/kids-workshops . Cost: FREE!
Mary Vagle Nature Center. 11501 Cypress Ave., Fontana, CA. It's so fun to have a family day out in nature! There is so much to explore for active families. You can enjoy a lovely walk along the nature trail which winds around the pond. Kids can have a great time spotting the local wildlife, or seeing if they can find the native plants currently in bloom. Or, for that extra learning experience, you can venture into the center itself and discover all the exhibits of the local animals, plants, geology and history. There is nothing better than learning about what you can see right in front of you! There are also programs with hands on approach to learning. For more info, call 909.349.6994. http://www.familydaysout.com/attractions-usa/the-mary-vagle-nature-center/
Mother Goose on the Loose. Mondays and Wednesdays at 12:00 noon at the Archibald Library Story Theater in Rancho Cucamonga. This is a fun, fast-paced storytime geared for children ages 0-3 years and is filled with rhymes, songs, lap-bouncers, movement, and of course classic Mother Goose rhymes. Walk-ins welcome. Limited seating - all walk in storytimes require buttons for each family member attending storytime and will be available at the Children's Information Desk 30 minutes before the program. Questions - 909.477.2720 Ext. 5025. www.cityofrc.us
5 on 5 Basketball League - Men & Women - Sunday and Monday evening leagues are available for both recreational and competitive players of all ability levels. All games are played at the RC Family Sports Center. Registration is taken as a team. Call 909.477.2785. www.cityofrc.us/cityhall/cs/sports/adults/default.asp
Free Computer Classes - Archibald and Biane Libraries offering free classes covering a variety of computer-related topics such as Word, Excel, PowerPoint, E-Bay, Google and basic computer skills. Classes at Archibald are on Tuesdays at 6 pm and at Biane Library on Wednesdays at 6 pm and 1st Saturday of the month at 10 am. www.cityofrc.us/cityhall/lib/tech.asp
Farmer's Market Terra Vista Town Center - Every Thursday Rain or Shine! Come see the fresh fruits, vegetables and more on Thursdays and soon Saturdays at Terra Vista Town Center. 3 pm to 7 pm in the Farrell's Ice Cream Parlour and Restaurant.
Victoria Garden's Farmers Market- Every Friday 10am to 2pm- Held on South Main Street there will be vendors with specialty food and craft items.
Complimentary Yoga - Every Saturday- Join Lululemon Athletica every Saturday for Yoga, perfect for all levels. Mats are available. 9:30am – 10:30am. 7369 Day Creek Blvd #F-102, Rancho Cucamonga. (909) 463-2308, ranchocucamonga-showroom [at] lululemon [dot] com.
Storytimes at the Paul Biane Library in Rancho Cucamonga http://www.cityofrc.us/cityhall/lib/kids/stories.asp
What to do in Newport Beach?
December 1 - Holiday Annual Tree Lighting Ceremony at Balboa Bay Resort, 1221 West Coast Highway, from 6:00 - 7:00 pm. Cost: FREE. Watch our spectacular Christmas tree at the Resort come to life with thousands of twinkling lights and holiday décor amidst a live musical performance of holiday harmonies and a visit from Santa Claus. Reservations are not required. Guests are asked to graciously donate a new, unwrapped gift for the Toys for Tots Program. More info: call 949.630.4212. http://balboabayresort.com/newport-beach-ca-hotels/southern-california-events/
December 5 - The Nutcracker for Kids - Presented by Festival Ballet Theatre at the Newport Beach Central Library, 1000 Avocado Ave. - 2:30 pm - 3:30 pm. The "Nutcracker" for kids is an abridged narrated version of the holiday classic presented by Festival Ballet Theatre. This shortened performance is intended to introduce children to the Nutcracker Story and ballet. This event is sponsored by the Friends of the Library. Admissions is free. Seating is on a first-come, first-serve basis, limited by room capacity. More info: 949.644.3309. http://www.newportbeachca.gov/Home/Components/Calendar/Event/9809/72?curm=12&cury=2015
December 6 - Fashion Island Menorah Lighting - Join the OC's Largest Menorah Lighting Celebration at Fashion Island in Newport Beach. Located at the Atrium Garden Court near Barnes & Noble. Performances by: Friendship Circle Special needs children choir and the "Orange Jews" group. Dreidles, Holiday Donuts, Balloon Animals, Face Painting, Hanukah Entertainment, Gifts, Hanukah crafts & Treats for children are all part of this celebration. Bring an unwrapped gift for a community toy drive. More info, call 949.721.9800. http://jewishorangecounty.org/calendar/fashion-island-menorah-lighting-1446363687
December 15 & 17 - Winter Crafts - We're celebrating Winter with some cool crafts. No registration required. Ages 3-8. Children must be accompanied by an adult. Funding for this event is provided by generous donations from the Friends of the Library. Dec. 15th - time is from 4 - 5:00 pm and location is Mariner's Branch Library at 1300 Irvine Ave. in Newport Beach. Dec. 17, the time is from 4 - 5:00 pm and the location is Central Library Friends Room, 1000 Avocado Ave, Newport Beach - ALSO this one is for ages K-3rd grade. More info, call 949.717.3800. http://www.newportbeachlibrary.org/events#/?i=1
December 16 - 20 - Newport Beach Christmas Boat Parade - Located on Newport Harber from 6:30 - 9:00 pm each night. Join over a million viewers as you watch beautifully decorated yachts, boats, kayaks and canoes sail along the harbor. As Newport Beach's Christmas Card to the World, this parade will set the harbor ablaze for 5 consecutive nights. These yachts are decorated "to the hilt". Some boat owners in the past have spent up to $50,000 to decorate their vessels for the event. This has been hailed as "one of the top ten holiday happenings in the nation" by the New York Times. https://www.christmasboatparade.com/
November 9 - January 3 - Nightly Tree Lighting Moment. Event time: 5:00 pm. Enjoy the lighting of Fashion Island's towering tree, Disney style! During this special tree lighting moment, watch as the tree twinkles to life with custom Disney holiday music and glittering lights. Location: Neiman Marcus - Bloomingdale's Courtyard. More info: 949.721.2000. http://www.shopfashionisland.com/Events/Details/5035
November 13 - December 24 - Santa House. Meet with Santa, share holiday wishes, and take photos with our favorite jolly ol' fella. He's back from the North Pole! Bring the kids to Fashion Island to meet with Santa. He will be at his custom - designed house on the Atrium Lawn (near Traditional Jewelers and Restoration Hardware) through December 24. Hours are listed on website. Closed Thanksgiving Day. More info, call 949.721.2000. http://www.shopfashionisland.com/Events/Details/5051/Santa-House
Ongoing Events in Newport Beach
Environmental Nature Center - 1601 E. 16th St., Newport Beach. Founded in 1972, the Nature Center is known to thousands of visiting students through the years as the "ENC". It is a fascinating combination of 15 California native plant communities, wildlife habitats, walking trails, Free museum and children's play/learning center. It's a sanctuary from life's pressures and a place of learning. It is visited by thousands annually. For more info, call: 949.645.8489. http://www.tripadvisor.com/Attraction_Review-g32780-d3653262-Reviews-Environmental_Nature_Center-Newport_Beach_California.html
Family Storytime - Every Saturday starting September 5 from 10:30 am - 11 am at the Central Library , 1000 Avocado Ave. in Newport Beach. Enjoy family time with stories, songs and a craft especially for children from 3-7, along with their favorite grownups! www.newportbeachlibrary.org
Every Saturday and Sunday morning beginning September 5 and continues year round. One of the best ways to appreciate Upper Newport Bay is to get out on the water, experience the tranquility and see pelicans, terns and egrets flying by you. Kayaking is fun and easy. The Newport Bay Conservancy offers a 2-hour guided kayak tour of the Back Bay in the heart of Newport Beach. This is great for novice and the experienced. They will make several stops on the way. Rain cancels the event. Where: Meet at the Newport Aquatic Center. When: 10:00 am - 12:00 pm every Saturday and Sunday. Who: Ages 8 and older. How: RSVP to 949.923.2269. Cost: $25 per person. www.newportbay.org
Sunset Cruise - Newport Beach, Every night. Choose from 1 of 2 cruises. The Fiesta Newport Beach Cruise includes live Latin Music, complimentary chips and salsa and an unlimited drink special of $15. The Newport Beach Sunset Cruise will also include the beautiful sunsets of Newport Beach. Each cruise is 1 1/2 hours. You will tour Newport Bay as well as the famous Newport Beach coastline. Upstairs sundeck, indoor salon and many other comforts are offered. Price $25. Location: Newport Landing/Newport Bay, 309 Palm St. Suite A. For more info call 949.675.0551. http://www.cruisenewportbeach.com
If you know of some family fun that should be added to this list for the IE to the OC then please let us know with a note! Send us a picture of you at these events to share with us to share on FB. Have a great time making memories with your Family!