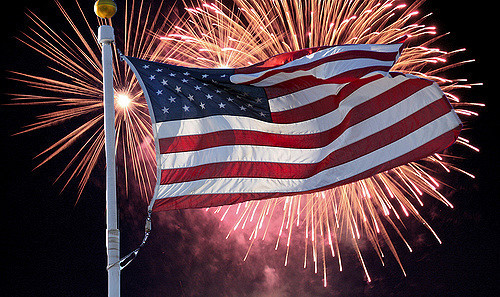 It's July!!! We love being able to celebrate our Country this month. The Fourth of July marks our country's birthday and on this day in 1776, the members of the Second Continental Congress met in Philadelphia, adopting the final draft of the Declaration of Independence, proclaiming our sovereignty from Great Britain! There are countless of ways Americans choose to celebrate this holiday – from family-friendly festivals, fireworks, parades and feasting on traditional American foods like hot dogs and BBQ. If you are like most of us here at Kessler Alair Insurance you work hard to play hard. For many of us filling our weekends with fun family activities is first priority when we clock out on Friday evening. Having our offices located in Newport Beach, Rancho Cucamonga and Upland California gives us a wide variety of events to choose from. Of course one of the best things about Southern California is the fact that you can go snowboarding in the morning and sit on the beach to watch the sunset all in the same day.
Whether you are in the Inland Empire or in Orange County and you are looking for a great thing to do this month here are a few ideas:

What to do in the Upland and Rancho Cucamonga Area
July 6, 13 & 27 – Ontario Senior Center Friday Night Dance – 6:00 – 9:00 pm, 225 E "B" Street, Ontario, CA. Continues through the summer every Friday. Cost: $4. Ballroom style dancing on a beautiful wood floor featuring Live Music. Healthy snack included. Doors open at 5:45 pm. Ages 50+. For more information, please call (909) 395-2021. Visit: http://www.ontarioca.gov/event...
July 13 – Movies in the Park – Descendants 2 – from 7:00 – 10:00 pm. Located at Ontario Town Square, 224 N Euclid Ave. in Ontario. Cost is FREE. Join us every Friday from June 1 - August 10 for our Movies in the Park Series. We offer children activities, vendors and food. Don't forget a Lawn chair or Blanket. Movies start at dusk. Please visit:https://www.ontarioca.gov/even...

July 14 – 22 – RC Community Theater – Seussical, The Musical – Located at 12505 Cultural Center Drive, Ranch Cucamonga, CA. "Oh the thinks you can think" when Dr. Seuss' best-loved characters collide and cavort in an unforgettable musical caper! Seussical is a fantastical, magical, musical extravaganza that brings to life your favorite Dr. Seuss characters, including Horton the Elephant, The Cat in the Hat, Gertrude McFuzz, and lazy Mayzie! The beloved characters sing and dance their way from the Jungle of Nool to the Circus McGurkus to the invisible world of the Whos, all on the stage of the Lewis Family Playhouse! The Cat in the Hat tells the story of Horton, an elephant who discovers a speck of dust that contains the Whos, including Jojo, a Who child sent off to military school for thinking too many "thinks." Not only must Horton protect the Whos from a world of naysayers and dangers, but he must guard an abandoned egg, left in his care by the irresponsible Mayzie La Bird. Although Horton faces ridicule and danger, the intrepid Gertrude McFuzz never loses faith in him. Ultimately, the powers of friendship, loyalty, family and community are challenged and emerge triumphant. Call 909.477.2752 for more information or visit: https://www.lewisfamilyplayhou...
July 5, 12,19, & 26 – Handel's Ice Cream $1.35 Thursday – Everyone is invited! Cost is $1.35 per ice cream cone. Since 1945, Handel's Homemade Ice Cream & Yogurt is made fresh every day on the premises. They use products, equipment, methods, and recipes exclusive only to Handel's. Each batch is made in freezers specifically designed to create Handel's distinctively smooth and creamy texture. Our philosophy is to use the best ingredients available and always in abundance. Enjoy a Handel's $1.35 ice cream cone on Thursdays! Just show up! Call: 909.989.7065 or visit: https://ranchocucamonga.macaro...
July 18 – City of Claremont – Kid's Corner – 6:30 – 7:30 pm. Located at: Shelton Park, Bonita St. and Harvard Ave. FREE Admission. Kids Corner is co-sponsored by the City of Claremont and the Kiwanis Club of Claremont with support from Claremont Lincoln University. This event is an entertainment series geared towards Claremont's youngest citizens. Each show will feature an engaging performer, snack concessions, and lots of fun.
Event Schedule:
Wednesday, July 18: Paul Cash, Environment Magician
Wednesday, July 25: Happy Crowd, Interactive Concert
Wednesday, August 1: North American, Wildlife Show
For more information about this event, please contact the Human Services Department at (909) 399-5490. http://www.ci.claremont.ca.us/...
Ongoing Monthly Events in the Upland and Rancho Cucamonga area:
July 9 – September 3 – Monday Night Concerts in City of Claremont – 7:00 – 8:30 pm, located at Memorial Park, 840 N. Indian Hill Blvd. The Monday Night Concerts are co-sponsored by the City of Claremont and the Kiwanis Club of Claremont with support from Claremont Lincoln University. This event draws 3,000-5,000 people each event and features some of the best entertainment in the area. To appeal to a wide audience, the series features a diverse type of music while including a few traditional groups. The Kiwanis Club offers a variety of concessions, from burgers, hot dogs and quesadillas to ice cream, popcorn, nachos, candy and drinks. Proceeds from the concessions assist in funding the bands. Tips for enjoying Monday Night Concerts:
* Bring blankets and low chairs
* Be aware other guests may arrive early
* Dogs are not allowed in City Parks other than Claremont Pooch Park
* Alcoholic beverages and smoking are not allowed in any City Park For more info, please visit: http://www.ci.claremont.ca.us/...
July – Every Friday Night – Claremont Friday Nights Live! - From 6:00 – 9:00 pm. FREE!! Come stroll, eat, shop, and browse while enjoying terrific FREE live music throughout the Claremont Village. Bands will be performing Fridays from 6 pm – 9 pm, from the first Friday in May through to the last Friday in October. Located at 205 Ave. in Claremont. Please visit: https://discoverclaremont.com/...
July 6 – WW Zumba! - 9:00 am – 10:00 am located at Westwind Community Center, 2455 E Riverside Dr., Ontario. Cost is FREE!! Continues every Friday night for the summer.Join the NEW Zumba Class geared for the Active Adult. This is a new way to dance yourself into shape. We are all beginners, give it a try! Ages 50+. For more information, please call (909) 395-2506 or visit: http://www.ontarioca.gov/event...
July 1, 8, 15, 22 and 29 - Claremont Artisans and Farmers Market – Every Sunday, rain or shine. 8:00 am – 1:00 pm – FREE – located on Indian Hill Ave. and 2nd Street in Claremont Village. Voted best farmer's market in the Inland Empire (Los Angeles Times, 2012), the Farmers & Artisans Market was founded in 1996 to connect California farmers and artisans to the local community, and features over 100 grower and artisan members sharing their goods and services throughout the year. Highlights include Certified Organic Produce, Specialty Artisans & Crafts, and Flowers & Plants Sponsored by The Claremont Forum. http://discoverclaremont.com/e... and also visit: http://www.sustainableclaremon...
Each Saturday Morning – Children's Storytime @ Barnes & Noble – Go to Barnes & Noble each Saturday morning for storytime. Check the schedule for a different story each week. Where: Barnes & Noble in Rancho Cucamonga, Montclair Plaza, 5183 Montclair Plaza Lane. When: 11:00 am – 11:30 am. All children are invited to come. Cost is FREE. Call 909.399.1966 for more info.
July 2, 9, & 16th - Mother Goose on the Loose. Mondays at 12:00 pm at the Biane Library in Rancho Cucamonga. This is a fun, fast-paced story time geared for children ages 0-3 years and is filled with rhymes, songs, lap-bouncers, movement, and of course classic Mother Goose rhymes. Walk-ins welcome. Limited seating - all walk in story times require buttons for each family member attending story time and will be available at the Children's Information Desk 30 minutes before the program. Questions - 909.477.2720 Ext. 3975. https://www.cityofrc.us/cals/d...
What to do in the Newport Beach area:

July 4 – 4th of July is for Families – 9:00 – 11:30 am – Channel Place Park in Newport Beach. The City of Newport Beach will host the 8th annual Newport Peninsula Bike Parade and Community Festival on July 4. The bike parade begins at 9 a.m. at 36th Street Park and will head down Balboa Blvd. to Channel Place Park for a free community festival including carnival games, giant slides, jump houses, arts & crafts and food. Parade participants are encouraged to decorate bikes, scooters, wagons and strollers and please bring dogs on leashes. The festival will run from 9:30 a.m. to 11:30 a.m. For more information on this event, contact the Recreation and Senior Services Department at 949-644-3151. https://www.visitnewportbeach....
July 12 – Mission Viejo – Raised Bed Vegetable Gardens – 1:00 – 3:00 pm – located at Norman Murray Senior Center, 24932 Veterans Way, Mission Viejo. Don't let poor soil or space limit how much you can grow in your garden. Learn from OC Master Gardeners how raised beds make it easy to have terrific year-round homegrown vegetables. Call 949.470.3062 for more information.

July 14 – Villa Park – Succulents – 11:00 – 12:00 pm, located at Villa Park Library, 17865 Santiago Blvd., Villa Park. Join us for a presentation from the UCCE Master Gardeners. This program will be focused on caring for and establishing succulents. This program is free to attend and everyone is welcome. Please contact the Villa Park Library at 714-998-0861 for more information.
July 14 – Junior Biologist – Sharks!! - 9:30 – 11:30 am - Sharks are amazing predators of the deep. Do you know a budding marine biologist? The Junior Biologist series of programs at the Aquarium will encourage a love of science in your seven- to twelve-year-old child. Each 2-hour class includes theme related activities, guided gallery tour, interaction with our animal care staff behind-the-scenes, and a keepsake journal. Sharks are amazing predators with remarkable adaptations. Separate the facts from the myths about this incredible animal. During this 2-hour program your seven- to twelve-year-old child will:
* Touch animals in our private classroom touch pools
* Feed animals behind-the-scenes with our animal care staff*
* Take a guided tour of the Southern California gallery to observe local shark species
* Record observations in a keepsake journal Call 562.590.3100 or http://www.aquariumofpacific.o...
July 15 – Concerts on the Green: The Springsteen Experience – 6:00 – 7:30 pm – Newport Beach Civic Center, 100 Civic Center Drive, Newport Beach. Bruce Springsteen is one of the most prolific song writers and storytellers of our time. Josh Schreiber and the band perform his catalog of music, and -- with the utmost sincerity, respect, and gratitude -- wish to thank Bruce Springsteen and The E-Street Band.

The City Arts Commission presents another series of "Concerts on the Green" during the summer of 2018. Concerts on the Green will be "on the Green" at the Newport Beach Civic Center, 100 Civic Center Drive, Newport Beach. Concerts begin at 6 p.m. and end promptly at 7:30 p.m. and are free to the public. Bring your low-slung beach chairs and a picnic dinner or purchase food from gourmet food trucks. For more info, call: 949.717.3802 or visit: https://www.visitnewportbeach....
July 21 – Irvine – Integrated Pest Management – 10:00 – 11:00 am. Located at – Great Park Food and Farm Lab, 6950 Marine Way, Irvine, CA. Learn multiple techniques for effective pest control that are the least toxic for your home environment. Know how to keep the bad pests away and welcome the beneficial insects, all while protecting the environment. Visit:http://www.cityofirvine.org/ne... for more information, or call: 949.724.6599.

July 21 – Percussive Story Telling @ Mission Viejo City Hall – Located at 200 Civic Center Drive in Mission Viejo - Clap along with this High-energy program featuring story-telling fused with Classical music. Ages 4 and up with parent or guardian. Parking and admission is FREE. Call 949.830.7100 or visit: https://www.planadayout.com/Ac...
July 28 – Family Game Day @ Orange County Great Park – 10:00 am – 2:00 pm – Located at Orange County Great Park, 6950 Marine Way. Saturdays are for family and fun. Bring a picnic and enjoy a day at the park. Lawn games, board games, crafts and other activities will be provided by Great Park staff to kick-start your weekend. Activities will be held next to the Visitors Center. Admission and Parking are FREE. Please call: 866.829.3829 or visit: https://www.planadayout.com/Ac...
Ongoing Events in Newport Beach/Orange County:
Balboa Peninsula Trolley Returns - The familiar gold and burgundy Balboa Peninsula Trolley has returned with service each Saturday and Sunday during the summer and on the Fourth of July. With 22 designated stops along the route, trolley riders will be able to explore the Peninsula in style without having to worry about the struggle of finding a place to park. The trolley is a free serve with regular hours from 9:30 a.m. until 9:30 p.m. A trolley is scheduled to pick up riders at every stop in 15-minute intervals, depending on traffic conditions. Riders are invited to climb aboard or exit the trolley at any of the stops along the way to and from the Balboa Pier and Fun Zone area all the way to Mariners' Mile. For more information, please visit: http://www.newportbeachca.gov/...
Fourth of July Holiday Information - Spending the Fourth of July holiday in Newport Beach is full of fun, sun (don't forget your sunscreen) and excitement. We welcome and encourage safe and family friendly celebrations. To receive up-to-date information throughout the day about traffic and events, text NBJULY4TH to 888777 (standard text messaging charges may apply). Fireworks of all types are illegal in Newport Beach. Folks like to take the risk and light off fireworks, we can hear them too. To report the use of fireworks, call the City's Police Department non-emergency line (949-644-3717) only if you know the exact location to provide our dispatchers with detailed information. The City sponsors a large fireworks display at the Newport Dunes Resort. Newport Beach residents, with photo ID, can enter the Dunes in the evening for free to watch the fireworks. The Dunes hosts an all-day celebration with music, food and fun and charges an entry fee for each attendee. For more information, please visit: http://www.newportbeachca.gov/...
Newport Theatre – Located at 2905 East Coast Highway, Corona del Mar, CA. The new Port Theatre reopened to serve the community on Friday, July 20, 2012, with a slate of quality films including Bernie, Safety Not Guaranteed, and First Position during its first week of opening. After nearly fifteen years of hiatus and extensive renovations, the theatre intends to provide the residents of Corona del Mar, Newport Beach, and beyond with a best-in-class movie going experience. For more information, call 949.723.6333 or visit: http://portnewport.com/ NEARBY HOTELS
July 1 and every Sunday – Concerts in the Park – at Huntington Beach Central Park – FREE – Starts at 5:00 pm - Bring out your lawn chairs, blankets, and picnic blankets behind the library for this Huntington Beach tradition. The HB Concert Band hosts a free eleven-week series featuring various music groups, like concert bands, Latin bands, and hot swinging big bands. June 24 — SERIES PREMIERE - Huntington Beach Concert Band "Great Music of America". Movies go until the beginning of September. Located at 7111 Talbert Ave., Huntington Beach. Call 714.891.6856 for more information. http://www.hbconcertband.org/s...
Movies on the Lawn – Orange County Great Park - Join us for family-favorite movies on the outdoor big screen. Bring low-back chairs, blankets and a picnic, or purchase items from the food trucks or snack bar. Movies begin at dusk and are weather permitting; admission is free. 2018 Movie on the Lawn Schedule:
FLASHBACK FRIDAYS (Held on Palm Court):
• July 6: Clambake
BLOCKBUSTER SATURDAY (Held on the Terraced Lawn):
• July 7: Peter Rabbit
• July 14: The Greatest Showman
At Orange County Great Park, 6950 Marine Way, Irvine, CA. Call 866.829.3829 for more information or visit: https://www.planadayout.com/Ac...
Every Tuesday Night in July - Street Fair and Farmer's Market @ Downtown Huntington Beach – 5:00 – 9:00 pm. Located at 200 Main Street in Huntington Beach. Surf City Nights is a weekly street fair & certified farmer's market. Located on Main Street 1st-3rd blocks between PCH & Orange Street. Farmer's Market: fresh cut flowers, original crafts, local honey, fresh baked goods, dried fruits & nuts. Merchant Venders: Original artwork, glass & ceramics, clothing & couture, gifts & collectibles. Food Vendors: hot or cold sandwiches, food plates, soups & seasonal snacks, ethnic & American cuisine, dessert & delights, beverages. Live entertainment: musical groups & soloists, bubble man, pirates, magicians, kids' activities, balloon artist, face painting, inflatables. Admission and parking free. Visit: http://www.surfcitynights.com/
Every Sunday in July – Newport Beach Farmer's Market – 9:00 am – 1:00 pm, at 1 Newport Pier in Newport Beach. Our Newport Beach Farmers' Market is an ultimate Southern California experience, located right next to the beach on the Newport Beach Pier. Just steps away from the famous Dory fish market and beachfront shops and restaurants, this market is a staple for locals and a reason to make Newport Beach a Sunday destination! Every Sunday come rain or shine! http://www.farmermark.com/newp...
Newport at Night – Don't miss out on Newport at Night. At Cruise Newport Beach, we offer unforgettable oceanic adventures. With daily whale watching tours, sunset cruises, and evening entertainment on the water, you'll be able to grab a drink or two and set sail. Starting at sunset, the twinkling lights of Newport Harbor flicker on, and the night begins. From concerts on the beach, to private karaoke parties on a ship, Cruise Newport Beach offers different activities and events for those who love happy hours on the beach. We also offer boat & yacht rentals to Southern California residents...so give us a call for your next event, wedding, office get-together or holiday party! Call 949-673-1489 or book online to reserve your cruise today! http://www.cruisenewportbeach....
If you know of some family fun that should be added to this list for the IE to the OC then please let us know with a note! Send us a picture of you at these events to share with us to share on Facebook. Have a great time making memories with your Family!