Ride Hailing Insurance
Driving for Uber, Lyft or another ride-hailing company is a great way to earn a living or just make some extra cash. It's easy and convenient, but did you know that these companies don't provide full coverage for your vehicle if you get into an accident? We shared much of this detail in an article Michael Kessler wrote entitled "Do You Uber?"
You may have asked yourself: "How do I get insurance so I can drive for Uber or Lyft?" Well now you don't have to worry, you have a great option! Mercury Insurance can provide the coverage you need, and the best part is that it can cost as little as $0.20 a day! That's right, you can protect your vehicle, family and livelihood for as little as a few pennies a day.*
Here's how it works
The company for which you drive only provides limited insurance coverage during the time your ride-hailing app is on, but have not yet accepted a fare (Period 1). Once you accept a fare or are transporting a fare, you will have coverage under the commercial insurance policy for the company for which you drive.
It is very important to understand, however, that your personal auto insurance policy only provides coverage when your ride-hailing app is off. This means that when your app is on and you're looking for a fare, you probably aren't fully covered.
Know your coverage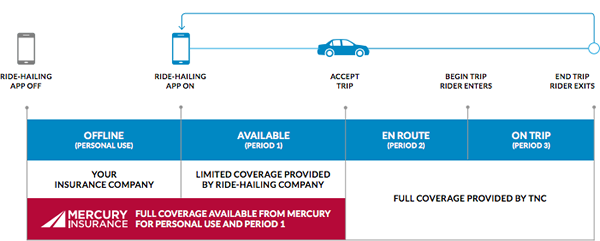 So at this point, you have to ask yourself...do I feel lucky?
Your answer should be no, because what if you get into an accident in Period 1? Who will pay to repair the damage to other vehicles and drivers, and who will pay to fix your car? It definitely won't be your insurance company, and it probably won't be the ride-hailing company's insurance company. It may be you.
Mercury to the rescue!
Mercury's ride-hailing coverage will fill the gaps and provide you with high quality insurance that will cover you in Period 1 when the Transportation Network Companies' (TNCs) coverage isn't in effefct. If you get into an accident and you're liable, Mercury will pay to fix the damage to the other vehicles(s), Mercury will pay for any resulting injuries, and Mercury will pay to have your vehcile fixed at one of our amazing repair facilities.**
Big savings & big discounts
Mercury offers some of the lowest rates in California – plus, great discounts like Auto+Home, Good Driver, Good Student, College Alumni and many more!***
Big benefits
Mercury customers enjoy tremendous benefits, such as 24/7 claims reporting and repairs that are guaranteed for life. That's right, when repairs are completed at a Mercury-authorized direct repair facility, those repairs are guaranteed for as long as you own the vehicle!
Big time service
We at Kessler Alair Insurance are known for personalized and extremely friendly customer service. We serve Southern California and beyond with our three locations in Newport Beach, Upland and Rancho Cucamonga. We are an independent agent so we not only provide quality companies and policies for your car and home but your business' commercial insurance needs as well as employee benefits. We are your one stop shop! And now we are pleased to help those Uber and Lyft drivers with an option to provide quality coverage for your transportation venture.
Give us a call today! 909.931.1500 or 949.536.3700

Don't have time to talk right now? Submit your info here and we will respond with a quote by the next business day.
*Actual cost may vary, depending upon coverage selected and other underwriting factors. Purchase of a Mercury auto policy at an additional cost is required.
**Subject to policy limits and eligibility requirements.
***Discounts subject to qualification requirements.
Read more about Mercury's announcement here:

http://www.insurance.ca.gov/0400-news/0100-press-releases/2016/release011-15.cfm

http://labusinessjournal.com/news/2016/jan/27/new-mercury-policy-rises-uber-lyft-drivers/